Saturday & Holiday School
Saturday school is now open for pupils in Year 7. We are also delighted to be able to offer Easter and Summer Schools for pupils.
Our Saturday School and Summer School offers Gladesmore pupils the chance to shine in their learning and boost their progress by taking advantage of additional lessons. There is no charge for classes. We have a long tradition of running well-attended classes for pupils in a wide range of academic subjects plus sports and enrichment activities.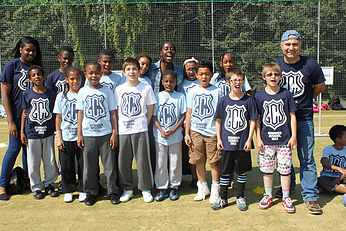 Saturday School for Year 7 pupils at Gladesmore and 5 & 6 pupils at Crowland Primary and other local primary schools. This provision started in September 2013. With the exception of a few pupils who have other commitments set up by parents/carers, the whole of Year 7 attend from 9am to 1pm. Lunch is provided free of charge. This is a wonderful opportunity for children to boost their literacy and numeracy skills. They also enjoy a range of other exciting lessons such as dance, music, sports, science and technology. During the year a number of trips are organised to places of special interest in London.
Booster and revision classes are scheduled for pupils in Year 8 to 11 on Saturday and in the school holidays. The timetables for these are published prior to each holiday.
Summer School is a brilliant programme designed to help children starting in Year 7 settle into Gladesmore. This two week special is made up of a variety of fun academic and practical learning activities and also includes two educational trips. Details are available at the first Induction evening in May.
200 places are available at no cost.
Progress School is a programme that pupils are expected to attend during the holiday period if they do not make the expected progress in Mathematics, English or Science during the year.