Supporting Siblings: Play
This page is designed as a practical support to parents who are at home with children. It is built from the practical experience of parents at home with their children over many days! We have included some tried-and-tested activities and also links to websites with hundreds of ideas to give you inspiration.
Why are play and interaction so important?
Play is so important to boost your child's development and learning, so much so that it has been recognised by the United Nations High Commission for Human Rights as a 'right of every child'
Play and interaction do not just keep children and young people busy, they maximise development and contribute to cognitive, physical, social- and emotional well-being.
Play and interaction offer ideal opportunities for parents to engage fully and 'tune in' with their children.
Haringey Education Psychology Service have provided a booklet to support parents playing and interacting with their children. To find more out, you can download a copy of the booklet by clicking on the image below.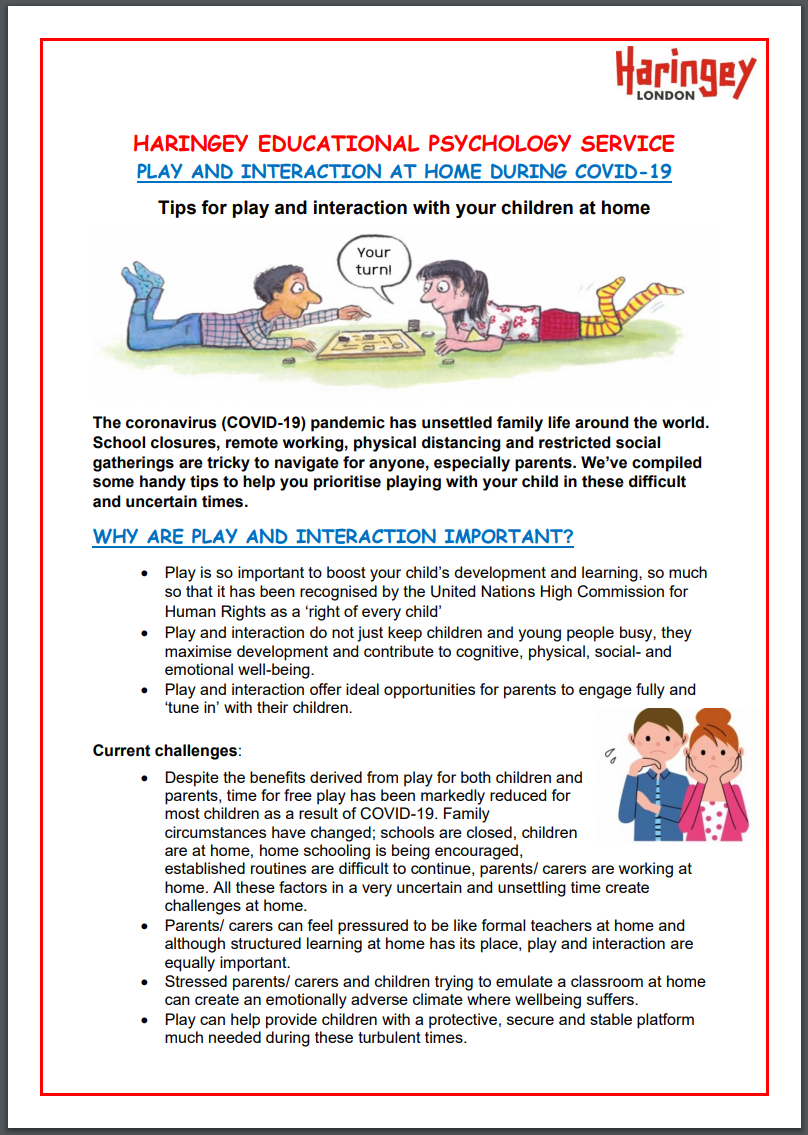 Fun Ideas
Here are some tried and tested ideas from some of our Gladesmore teaching staff that we recommend you could try!
| | |
| --- | --- |
| Build a den (pillows, cardboard boxes, chairs and blankets!) | Plant a seed and watch it grow |
| Water colouring - give them a paintbrush, some water and let them draw on flagstones, pavements etc | Grandmother's footsteps/red light, green light - great for developing counting skills |
| Chalk drawings on pavements etc (let the rain wash it away) | Play "What's the time Mr Wolf?", another great one for counting |
| Kinetic Sand - sand play but without the mess. Parent tip: Buy a plastic blow-up tray to keep the sand in | Make a library - get all / some of their books out and ask them to organise them |
| Make a band- give them a wooden spoon, a pan, some plastic bowls (and go into another room!) | Hold a disco - choose a mixture of their and your favourite songs! |
| Baking! You could get creative and bake cookies into different shapes or animals and decorate with icing. | Doctors and Nurses - if you are tired you can always lie on the sofa! |
| Colour or letter scavenger hunt around the home | Let them help with the housework - little arms are great at cleaning skirting boards |
| Hide and seek with teddies - hide 5 and let them find them | Pairing socks, mix up socks and let your child sort them out again |
| Create an indoor obstacle course | Download the Sandbox app - once they can recognise numbers, they can colour really nice pictures (and helps develop number recognition) |
| Freeze toys in water in the freezer and give them a spoon to dig them out | Top Trumps (once they are old enough to recognise numbers) |
| Collage - cut out a load of old magazine pictures and let them glue, stick etc | Soft ball games - catch, rolling, football etc |
| Washing up - endless fun with plastic bowls or let them wash their own plastic toys! | Anything with a large cardboard box - you can occupy them for ages painting the outside! |
| Threading games - wool and pasta etc | Guess the animal - you describe an animal e.g. it has 4 legs etc |
| Create your own balance beam along the floor using masking tape | I spy with colours (building to letters) |
| Tray game - put a number of items on a tray and remove one. Child has to work out which one is missing. Increase the number of objects as children get better. Get them to make one for you - they'll love it! | Animal snap, matching game using animal pictures or names |
| Touch and feel box - put a number of items into a bag and ask children to work out what they are. | Puppet show, you could even create your own puppets using old socks and other materials laying around the house! |
| Lego challenges - Google for ideas, there are loads out there! | Listen to Peter and the Wolf and then act out the story |
| Rock painting (find the stones and then paint them) | Bubble-blowing |
| Paper aeroplanes (fold and colour/draw your own plane designs) | Indoor picnic |
Websites
| | | |
| --- | --- | --- |
| Link | Description | Recommended for |
| NHM - Try This At Home | The Natural History Museum has hundreds of activities and ideas to occupy yourself and family at home, in your garden or local outdoor space. | 3+ Years |
| The Great Indoors | More than 100 different activities to keep young people occupied indoors | 6-10 Years |
| Tiny Happy People | Tiny Happy People is here to help you develop your child's communication skills. Explore our simple activities and play ideas and find out about their amazing early development. | Nursery to 4/5 Years |
| Cosmic Kids Yoga | Yoga, mindfulness and relaxation designed especially for kids aged 3+ | 3+ Years |
| The Best Ideas For Kids | Hundreds of free indoor activities, including craft ideas, games and educational games! | 3+ Years |