Food and the GladeDiner
Breakfast
Pupils that arrive early to school (before 8:00am) can receive a free breakfast prepared by the GladeDiner fresh every day. Year 7 and Year 8 pupils are also invited to attend Stepping Stones mentoring (starting at 8:15am) which also includes a free breakfast.
Breaktime
The GladeDiner offers a range of snacks and drinks at breaktime — pupils will need to bring money or pay via contactless.
Lunchtime
At Gladesmore Community School, lunch is served in the GladeDiner. The GladeDiner typically offers a selection of 2 hot meals including a vegetarian choice, sandwiches and hot snacks e.g. pasta; pizza. If pupils prefer, they can bring a packed lunch. In the first few weeks, Year 7 will be brought down to lunch early whilst they get used to how things work.
After pupils have eaten their lunch, they can go out into the playground to spend time with their friends, or they can go onto the Astroturf. There are also lunchtime activities which they can access e.g. table tennis. Pupils are not currently allowed to leave the school site during the day unless they have a note from their parents.
Prices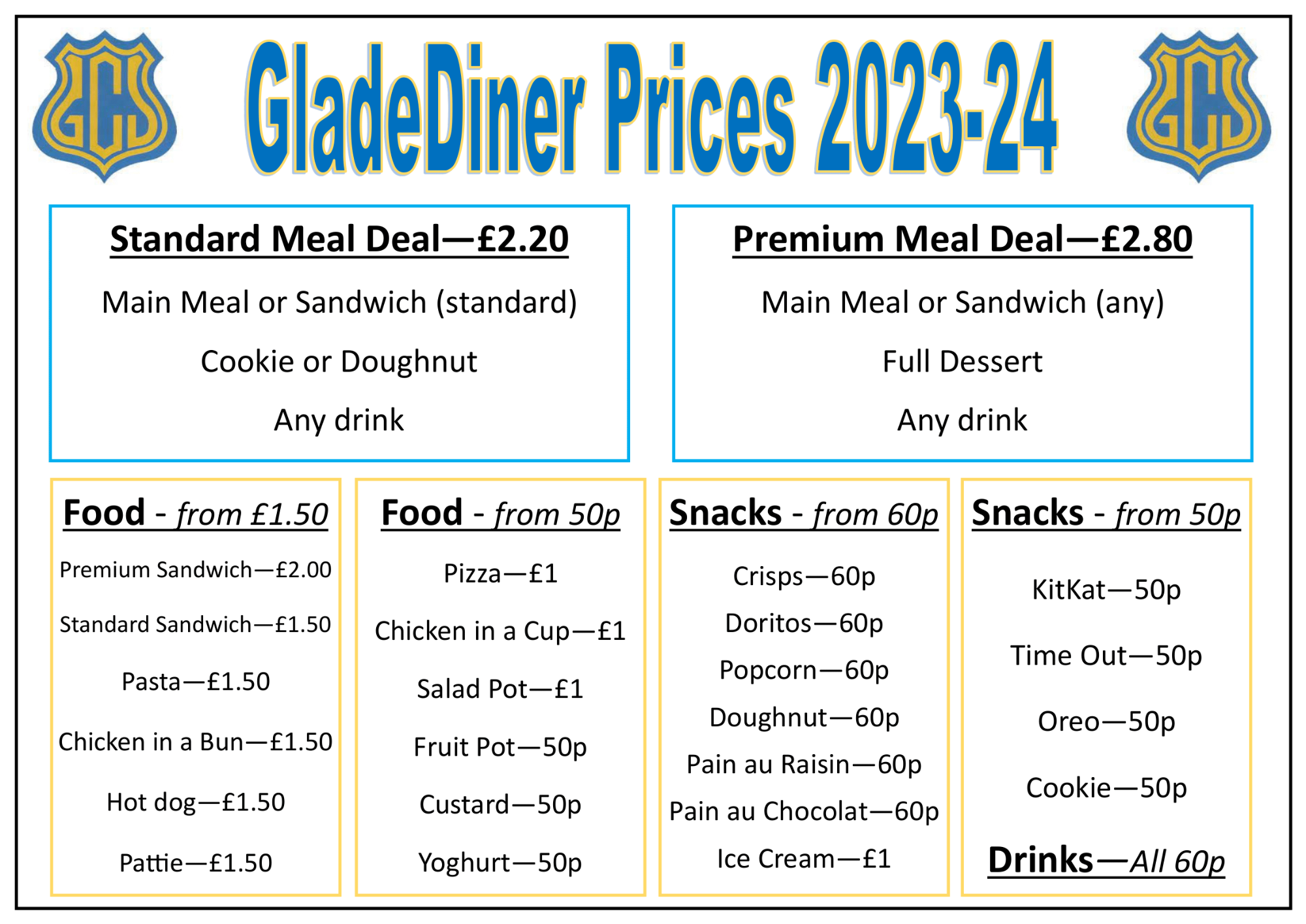 Payments
Free School Meals
If pupils receive Free School Meals, they will be given a lunch-card which they will show at the till.
Temporary Lunch Passes
Any student that does not have their lunch money or Free School Meals card will need to go to the Main Office before school, at break time or at lunchtime to be issued with a Temporary Lunch Pass. A text message will be sent to parent/carers at the end of the day to inform you that your child has requested a Temporary Lunch Pass.
Paid School Meals
If pupils do not receive Free School Meals, they will need to bring money for their lunch or bring a packed lunch. The GladeDiner accepts cash and contactless payment.
As stated in the school's updated mobile devices' policy, mobile phones must be switched off and in students' bags whilst they are on the school premises. This means that any student who would normally pay for items at break and lunchtime using their phones must find an alternative payment method.
The payment methods we currently accept are either cash or card. We know that some parents may be uncomfortable with their child coming to school with cash or card, but there are some excellent pre-paid cards available, some of which are free of charge such as HyperJar. These cards allow you to set payment limits, to monitor spending on an app and cannot be used at ATMs.
The following article gives more detail about the payment options available for young people: