Curriculum Enrichment
Gladesmore Community School likes to think of itself as a family and, as such, we recognise that our pupils have individual needs and interests. We try to provide many opportunities for our pupils as we can so that they can explore new interests, gain a breadth of knowledge and skills that widen their understanding of the world and prepare them for their future.
It is impossible to describe here the complete list of activities which are available to pupils, but we have provided below a selection to give you a flavour of our enhanced curriculum offer.
Support for learning
Extra-Curricular Activities

Extended school hours with access to ICT facilities, a quiet working environment and an extensive library
Literacy Interventions e.g. Lexia for Years 7 & 8
Actv8 Mentoring and Computing Project
Touch typing
Speech & Language Therapist
ASD debrief
Saturday School (Year 7 and Y10/11)
Home Learning clubs

Robotics and programming clubs
Dance
Police Cadets
Strong links with a local Taekwondo Club
Choir
Guitar club
Drama groups
Support for wellbeing
Trips and Visits

Counselling
Pastoral Mentoring
Participation in the Haringey Trailblazer initiative
ELSA

Subject trips e.g. Tate Art Gallery; Tower of London, UCL Biochemical Lab
Fieldwork experiences
Visits to careers fairs
Participation in Mathematics Challenges and competitions
We also offer a range of extra-curricular clubs and tuition sessions throughout the academic year across all year groups. Please see below the updated calendar for 2023/2024.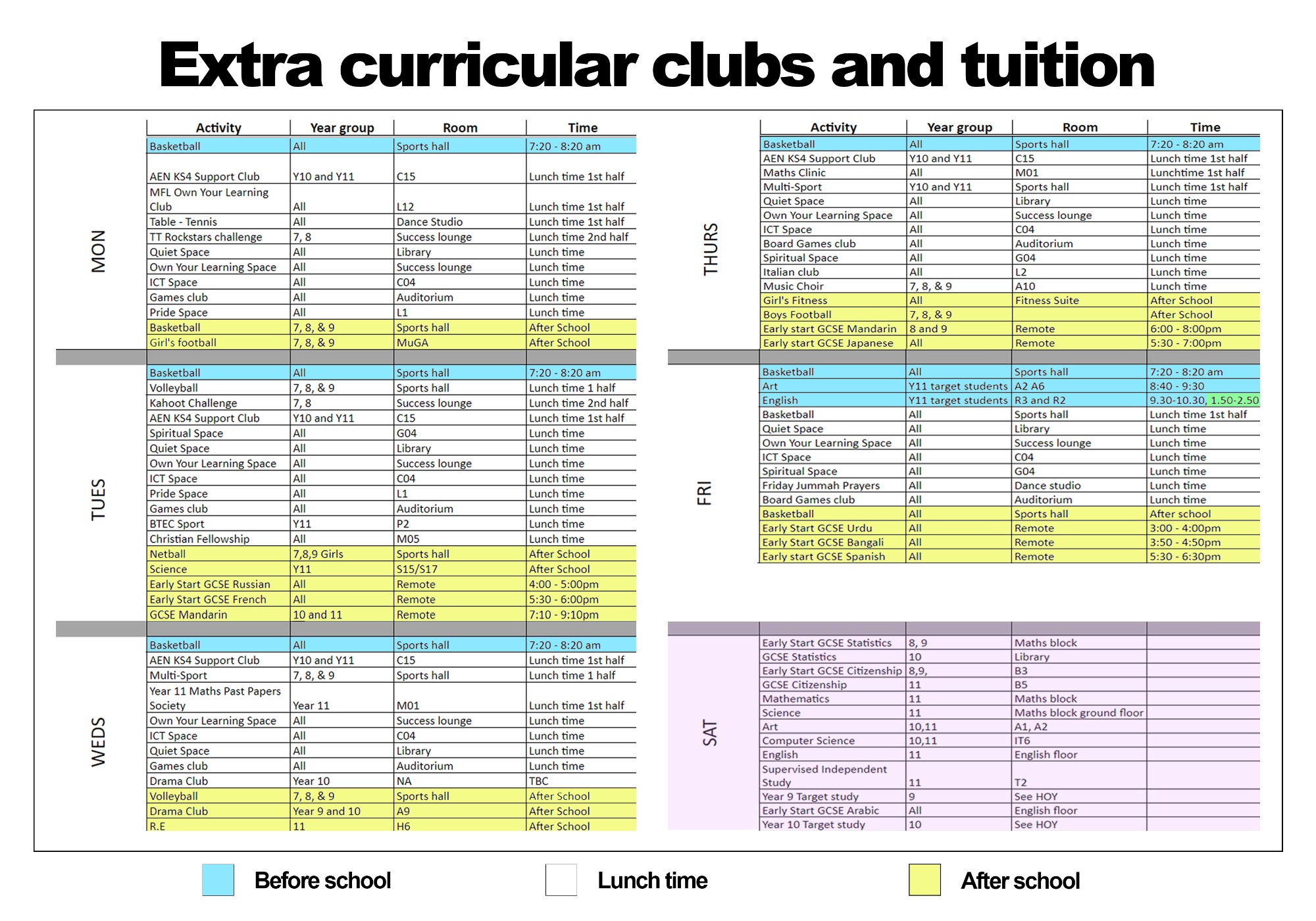 If you wish to know more about our enhanced curriculum offer, please contact the School Office and they will be able to direct your call to a member of staff who can answer your questions.