Uniform
Uniform Information
At Gladesmore, we believe our students are the best and in order for them to reach their full potential, they must look their best. We have outlined our expectations on uniform below to ensure your child looks exceptional when attending school.
All pupils must wear:
Plain navy blue jumper with the school badge (This is compulsory and must be worn. In exceptional circumstances, pupils will be given permission to remove their jumpers but they should always have their jumper in their bag.)
Plain light blue shirt (must be tucked into skirt or trousers)
Plain navy blue trousers (full length and plain leg style)
Plain navy blue school style skirt (from ankle length to no more than 5cm/2 inches above the knee)
Plain navy blue/black socks or tights (socks should be either ankle or knee length)
Plain black leather/simulated leather shoes with black soles, laces, straps etc. (No canvas or trainer style footwear including Vans or trainer style Kickers are permitted. Heels should be no more than 5cm/2 inches high.)
Plain dark colour outdoor coat (preferably black)
School tie (clipped on the collar or knotted high. Each year group is assigned a specific tie colour.)
For the academic year 2023-2024, the ties are as follows:
Year 7 — Blue

Year 8 — Green

Year 9 — Gold

Year 10 — Purple

Year 11 — Red
PE Kit: all items are branded
Black tracksuit bottoms with the Gladesmore logo

Light blue polo-shirt with the Gladesmore logo

Black tracksuit top with the Gladesmore logo

Black PE socks with a blue stripe

Black shorts (unbranded)
Religious Clothing
Students may choose the alternative uniform option as outlined below:
Plain navy blue shalwar kameez (knee length or just below the knee. No shiny or decorated fabric.)
Plain navy blue or black head scarf (no shiny or decorated fabric.)
Plain navy blue or black turban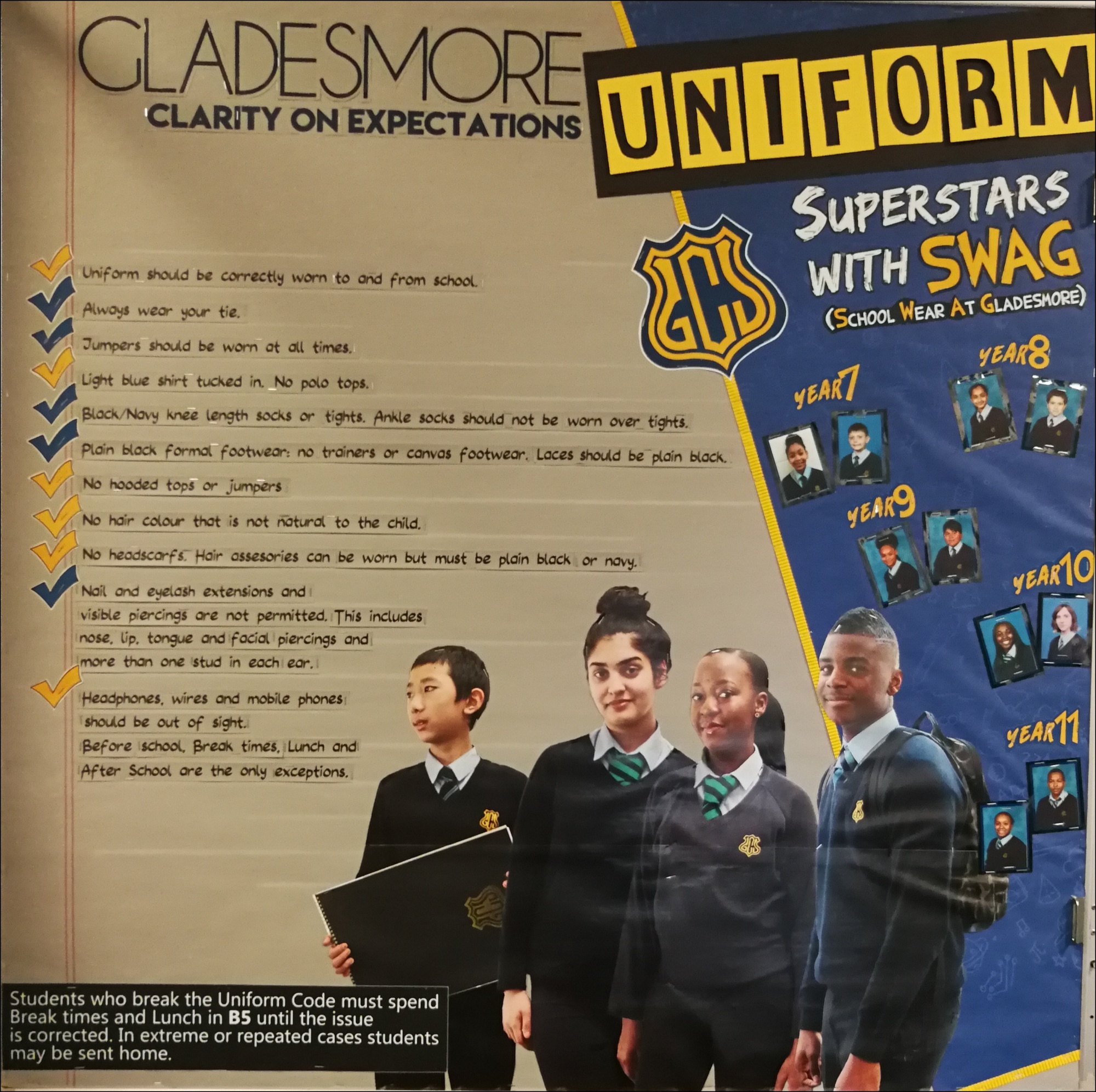 What pupils are not allowed to wear
The following items of clothing/accessories are not permitted as part of the school uniform:
Denim jeans, trousers or skirts

Tight fitted skirts or skirts with revealing splits

Hipster, tight fitted or flared trousers.

Trainers (except during PE lessons, or on the astroturf)

Canvas shoes, sandals, fashion boots or Crocs. Also, shoes with white or coloured soles or coloured laces.

Burkas or niqabs

Multi coloured, patterned or logo branded outdoor clothing (hooded sweatshirts or jumpers must not be used as an alternative for a coat)

Caps or hats (when inside the school building)

Bandanas, do-rags and bonnets

Jewellery with the exception of a watch (optional). Students with pierced ears may wear simple studs or small sleeper earrings.

Visible signs of body piercings

Acrylic finger nails and artificial eyelashes

Face masks may be worn provided they are white, blue or black and are specifically for reducing the risk of airborne infections.

Hair colouring should be natural (no blue, green, pink etc)
Please note that if there are any uniform concerns, parents will be notified immediately - pupils will be asked to go home and change into correct school uniform if they arrive to school wearing inappropriate items.
If students are unable to go home and correct any uniform concerns, then students will be off timetable and working in our Learning Centre until the issue is rectified.
If there is any medical reason which doesn't allow a student to follow our uniform guidelines, this needs to be communicated to us in advance with supporting evidence from a qualified professional.
Where to purchase Gladesmore school uniform
Items available from Gladesmore Community School are:
School tie – very limited stock for Year 7
School jumper – limited stock
All other items are available from: Uniform Shop Divine Solutions – 3 Northumberland Park, N17 0TA Contact No. 020 82169113
School tie (Year 7 ONLY)
School jumper
PE kit
Shirt*
Trousers*
Skirts*
* These items can be purchased from Uniform Shop Divine Solutions OR any other outlet/retailer as long as they follow the set guidelines
Please click here or see the attachment below for the current price list