Saturday, Summer & Holiday Schools
Our Saturday School and Summer School offers Gladesmore pupils the chance to progress in their learning and boost their progress by taking advantage of additional lessons. There is no charge for classes. We have a long tradition of running well-attended classes for pupils in a wide range of academic subjects plus sports and enrichment activities.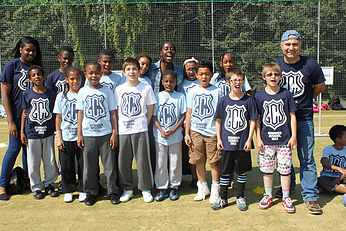 Saturday School runs throughout the year for children in Year 7. All but a few pupils who have other commitments attend from 9.00am to 1.00pm. Lunch is provided free of charge. This is a wonderful opportunity for children to boost their literacy and numeracy skills. They also enjoy a range of other exciting lessons such as dance, music, sports, science and technology. During the year a number of trips are organised to places of special interest in London.
Booster and revision classes are scheduled for pupils in Year 8 to 11 on Saturday and in the school holidays. The timetables for these are published prior to each holiday.
Summer School runs for the first two weeks of the summer holidays. It is a brilliant programme designed to help children settle into Gladesmore. The summer school programme is made up of a variety of fun academic and practical learning activities. A grant enables the school to run this programme without any charge. Healthy meals are provided each day, plus a rich array of activities including, literacy, reading and numeracy tuition, sporting, music and drama classes as well as pastoral sessions designed to help the children settle in. Gladesmore teachers and support staff run the programme for the children, so they became familiar with the school.
Holiday Schools also run at other points of the year for targeted groups of students.