Class of 2018 Celebrate Top GCSE Grades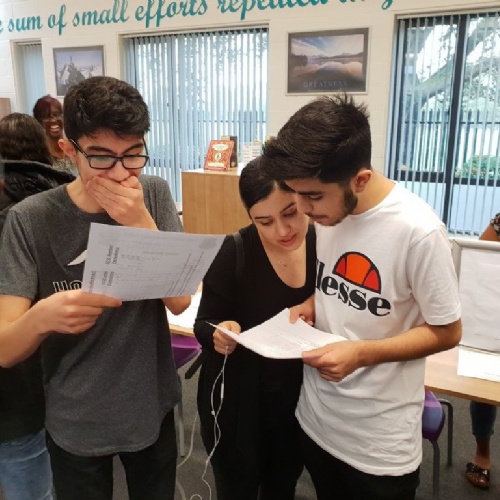 It's cheers all round for Gladesmore Community School pupils who are celebrating fantastic results in the new tougher GCSE examinations.
The school is overjoyed with the impressive number of students that obtained the top Grade 9 this year and was delighted with the number of subjects areas that achieved a 100% GCSE pass rate. These included GCSE Biology, Chemistry, Physics and PE. Pupils that sat Further Mathematics, all achieved A* grades, with the Additional Mathematics students all achieving A grades. Pupils that took GCSE Turkish or a Community Language, all achieved A* and A grades, and it was straight A* to B grades for our GCSE Graphics students.
Year 11 student and School Council member Ruby Buttolph was ecstatic when she found out she had achieved a grade 9 in all of her GCSE subjects, NINE in total, along with an A* in Further Mathematics, an additional subject she had chosen to study.
This year's GCSE results felt more amazing when you consider that the children this year had to sit more of the difficult and longer examinations, so it's an incredible achievement that so many did so well. 71% of pupils achieved top grades in both Mathematics and English with 68% gaining strong passes in 5 or more subjects.
Tony Hartney CBE said: "I am so proud of our pupils. They have worked really hard and deserve this success. I'm absolutely delighted and wish them all every success. These results should be a springboard for each of them to a bright future. Enormous thanks and credit goes to our wonderful staff that have done an amazing job to teach, motivate and nurture every individual to do the best they can. They are incredible."
The Progress Score success measure shows that pupils achieved well above the government's national target in every single subject. Progress is measured between Key Stage 2 to Key Stage 4. The provisional Progress 8 Score is well above the national standard and is at least half a grade higher than the government target; this indicates a superb achievement across the board.
Pupils taking the EBAC subjects, a combination of Science, English Language, English Literature, Mathematics plus either History or Geography and Spanish or French did superbly well with 49% gaining the top grade passes very significantly above the national standard of 22%.
Senior Deputy Head and Raising Achievement Lead, Dr Ijeaku Mezue, was thrilled with the results and said: 'Gladesmore pupils have again overcome challenges and disadvantages and demonstrated just what can be achieved with a positive attitude, determination and sheer hard work. I am so happy for the students and their parents."
Visit the Achievement and Results section of this website for a full rundown on this year's GCSE grades.