Solutions for the Planet 2023 Winners!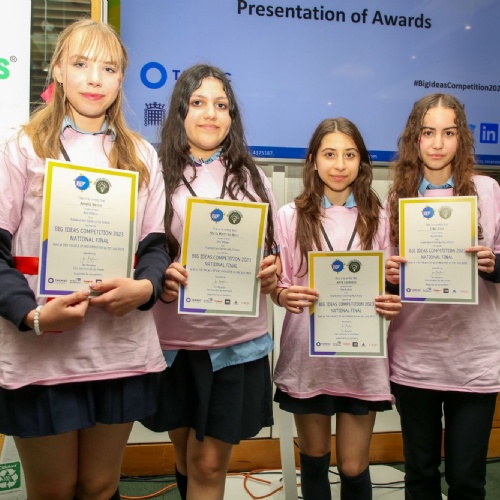 In November 2022 Gladesmore students had their first BIG Ideas' day, where they began by mapping out issues that they thought needs to solved to help our planet. Many of our students focussed on food, energy and water insecurity as well as tackling issues pertaining to climate change. On this BIG IDEAS day we had pleasure on mentors coming into support the teams from Cadent Gas and Tarmac!
In March 2023, 12 groups from Gladesmore submitted their BIG Ideas into the competition. All 12 groups had created a business plan to show how their Product/Service or Campaign would help with solving their BIG Idea. Some of these BIG ideas included designing lampposts that have a thermal fan that collect carbon, Webinars to help students think of careers in the NHS, sustainable period products, an app that detects if someone has a weapon on them and recyclable phone cases.
Over 1500 ideas were submitted into the competition and in May 2023. Two of our groups Red Ribbon and NHS Webinars were selected from Gladesmore to present in the Semi finals at the Southbank University. Our students were confident, enthusiastic and innovative and were the only school to present without a script.
Red Ribbon was chosen as part of the wildcard winners to present at the National finals held at the Palace of Westminster. Even though the students had their end of year assessment in the same week they practised through break and lunch times and gave everything to ensure they would perfect their presentations. Their motivation and determination was truly inspiring to watch and be part off.
We are so proud to announce that Red Ribbon came 3rd out of 140 schools! Red Ribbons BIG Idea was to manufacture sustainable period products and make it affordable for all. They also wanted to help students wellbeing by mentoring teachers on how they should tackle issues that surround periods. The Geography team are so super proud of Red Ribbon and all the students that took part! We look forward to taking part in the BIG Ideas programme next year.
To find out more about this event, please visit the Solutions for the Planet website.