Top GCSE grades for the class of 2016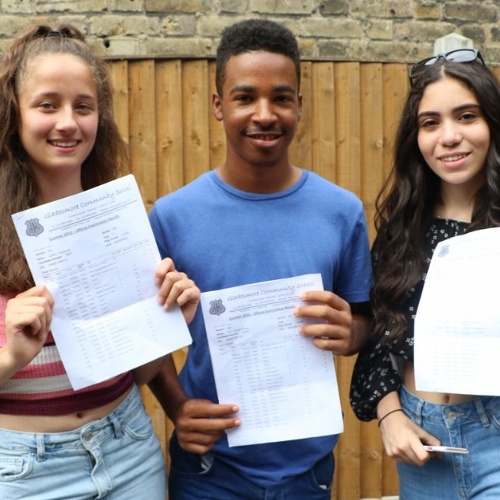 Well done to Gladesmore Community School students who are celebrating top grades in their GCSE results.
63% of students achieved an A* to C GCSE grade in 5 or more subjects including Maths and English. Our students' progress and attainment in all subjects is impressive.
The introduction of the new examination success measures, Progress 8 and Attainment 8, show that our Year 11 students achieved well above the national targets with students making outstanding progress at Gladesmore from Key Stage 2 to Key Stage 4 in eight key subjects.
Students in every subject have made significantly better progress and attained well above the national targets. 100% of the students who studied Biology, Chemistry, Physics, Further Maths, Turkish, Drama, PE, Work Skills and Business Studies achieved a stunning A* to C grade.
Tony Hartney CBE said: "I am so proud of the achievements of the young people at Gladesmore. They have worked hard and deserve this success. They have surpassed expectations and have got a great foundation to build on now and I wish them every success in the future. Enormous thanks and credit goes to our incredible staff who have done an amazing job to teach, motivate and support every individual to do their best."

Head of Year, Louiza Leon, overjoyed with the results said: 'Gladesmore pupils have again defied the odds, overcome disadvantages and demonstrated just what can be achieved with a positive attitude, determination and sheer hard work. I am so happy for them!"
These great results have ensured nine of our Year 11 students have secured fully funded scholarship placements to study their A levels at top UK independent boarding schools which include Rugby School, Marlborough College, Millfield School, Bradfield College and Mill Hill School.