Count on Us Secondary Maths Challenge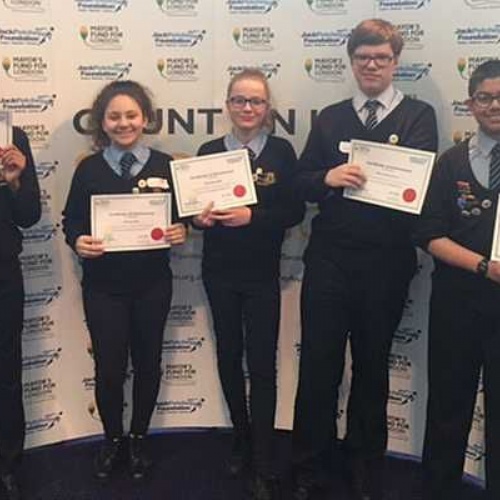 The 'Count on Us Secondary Challenge' is a unique, inter-school maths tournament for Year 8 and 9 students from 48 schools across London. The initiative is run by the Jack Petchey Foundation in partnership with the Mayor's Fund for London and aims to improve students' confidence and attitude towards learning maths through competing in an exciting maths competition. By combining a series of mental arithmetic and problem solving games, the Secondary Challenge develops students' mathematical fluency and improves their academic performance.
During the Spring term, a team of five students went to lunchtime and after school clubs in preparation for Gladesmore's first appearance at the competition. On Wednesday 13th April Team Gladesmore, accompanied by Mr Porter and Mr Woodhouse attended the regional heats of the competition which were held at London's City Hall. Our team triumphed to win a place at the grand final. On Thursday 30th June, Team Gladesmore returned to London's City Hall to take part in the final. We are delighted to be able to tell you that Team Gladesmore performed with superb dedication and skill to achieve 3rd place!
Congratulations to 'Team Gladesmore': Zeynep 8MBE; Rares 9ALE; Destan 8CRN; Robel 8RAL and Tasin 8EBE. Despite narrowly missing out on the top award, we are fully aware that our students ARE the best in London and next year we will be back to WIN!