Mayor of London visits Transition Summer School 2018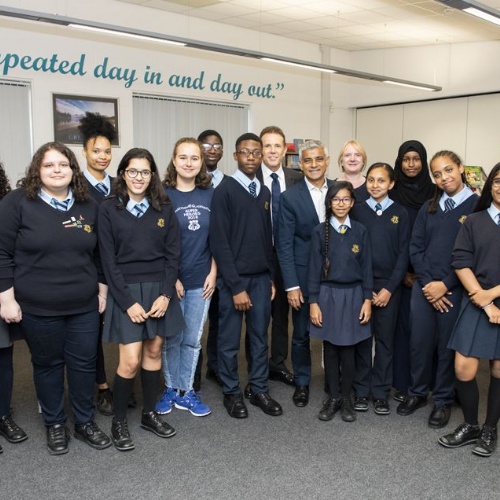 The sun was blazing, the sky was a beautiful blue and the summer holidays had just started. Monday 23rd July saw the first day of our fantastic Summer School. We had a phenomenal turnout with over 160 students consistently attending across the two weeks.
Students took part in Literacy, Numeracy and practical lessons, all delivered in a really fun and engaging way. Thrown into the mix were a trip to the new and improved RAF Museum in Hendon and a wonderful afternoon at the O2 where we saw the amazing DC Super Heroes exhibition showcasing props and costumes from several movies.
As the lead school for of the London Stepping Stones initiative we had the pleasure of welcoming Mayor Sadiq Khan to the school. He was suitably impressed with the student's and their commitment to their learning. He was able to meet with some of the Year 10 Peer Mentors who support the Year 7 students, and spoke with some of the Year 7's who have just completed the programme.
Our transition programme continues throughout Year 7 with Transition@Gladesmore Saturday School. This runs for 256 Saturdays across the year and is open to all Year 7 students. Each Saturday starts at 8.30am and finishes at 12.30pm when we have lunch. Please contact Mrs Bardouille at the school for further information.