Markfield Park logo competition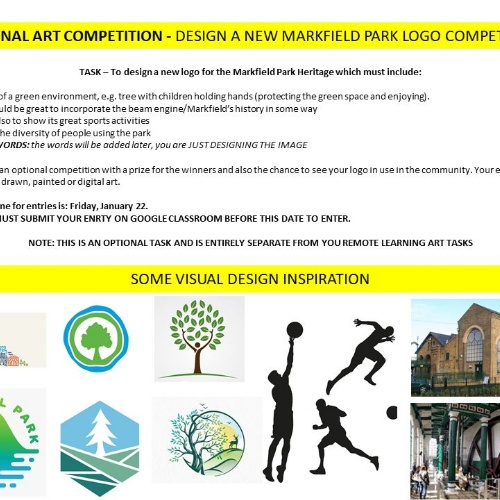 DESIGN A NEW MARKFIELD PARK LOGO COMPETITION.
TASK – To design a new logo for the Markfield Park Heritage which must include:
- logo of a green environment, e.g. tree with children holding hands (protecting the green space and enjoying)
- it would be great to incorporate the beam engine/Markfield's history in some way
- but also to show its great sports activities
- And the diversity of people using the park
- NO WORDS: the words will be added later, you are JUST DESIGNING THE IMAGE
This is an optional competition with a prize for the winners and also the chance to see your logo in use in the community. Your entry can be drawn, painted or digital art.
Deadline for entries is: Friday January 22nd 2021.
YOU MUST SUBMIT YOUR ENRTY ON GOOGLE CLASSROOM BEFORE THIS DATE TO ENTER.
NOTE: THIS IS AN OPTIONAL TASK AND IS ENTIRELY SEPARATE FROM YOUR REMOTE LEARNING ART TASKS.