Achievements & Results
Achievements

Gladesmore provides high-quality education for girls and boys aged 11 to 16. At Gladesmore traditional values such as hard work and effort are rewarded. The focus of the school ethos is to promote respect and learning.
Gladesmore has in 3 successive OFSTED inspections been judged as outstanding in all aspects and assessed as exceptional. In 2011 the school was awarded the Royal Crest by Her Majesty Queen Elizabeth II. This is the highest and most prestigious award given to only a handful of schools in the UK.
The school is situated in pleasant surroundings adjacent to Markfield Park and the River Lea. The site occupies three acres and includes excellent facilities for all subjects. The buildings and resources are excellent in all subject areas and provide pupils with ideal opportunities for success.
Gladesmore has been awarded with numerous national and international honours. And, as the leading school in Mathematics we are supported by Moody's Corporation of Wall St, NYC and Canary Wharf, London.
Following inspections in 2008, 2009 and 2013 the OFSTED teams declared Gladesmore to be an Outstanding school in all aspects with numerous Exceptional features:
"an outstanding school in every respect"
"children speak highly of their awesome school"
"behaviour is outstanding"
"teaching is outstanding"
"pupil progress is exceptional"
"leadership and management are exemplary"
"parents are exceptionally positive about the school"
"relationships between pupils and with staff is outstanding"
"racial harmony is exemplary"
We offer a broad range of subject experiences for our pupils. In addition, we run a Saturday School, after school tuition and extensive holiday classes to boost progress and help pupils make strong progress.
Classes of 2020 & 2021 — Examination Results
The government is not publishing performance data for any schools or colleges for 2020 & 2021 due to the varying impact of the pandemic. However, Gladesmore Community School is immensely proud of all the work and achievements of the classes of 2020 & 2021, so we want to share headline results.
Clarification: In 2020 and 2021, national exams were cancelled due to the pandemic. Grades were awarded through a process of centre assessed grades. These centre assessed grades were then ratified by the exam boards.
Despite the difficult circumstances of the pandemic, Gladesmore pupils have once again demonstrated just what can be achieved with a positive attitude, determination and sheer hard work.

Class of 2021 - Subject Results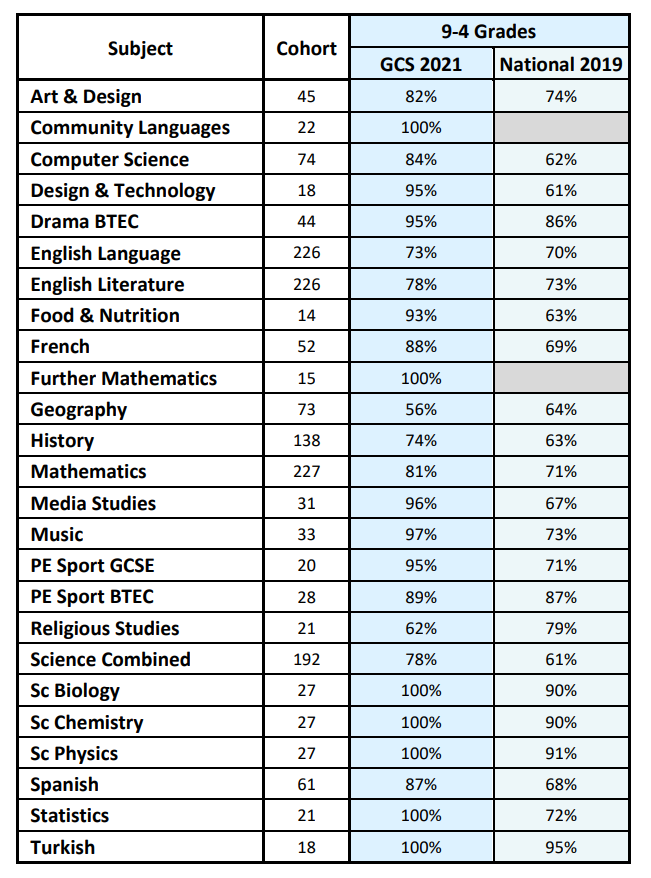 Examination Results Over Time