English
"Through language, we can express who we are, form relationships and understand each other; through literature we can explore the complexity and beauty of what it means to be human; through both, we become fully engaged with the world in which we live."
KS4 Specification
AQA GCSE English Language and English Literature.
National Curriculum
Gladesmore Community School prides ourselves on delivering the breadth and ambition of the National Curriculum.
Curriculum Intent
The ability to communicate, express our thoughts and share our feelings, both through written and verbal form, is fundamental to our day-to-day existence; whilst the ability to read a range of texts, appreciate their depth of content and engage with the wider ideas they present, ignites our curiosity and enriches our human experience. Through language, we can express who we are, form relationships and understand each other; through literature we can explore the complexity and beauty of what it means to be human; through both, we become fully engaged with the world in which we live.
At Gladesmore, we embrace the many varied possibilities with which fluent expression and confident understanding of the written word can equip us, and we therefore position this at the centre of our curriculum. We recognise that our students may lack both the exposure to language in its more complex forms and to literature of a more challenging nature — and the opportunities which allow independence of thinking which these may provide. We therefore offer our cohort a depth and breadth of literary experience which seeks to build a stronger cultural literacy and to encourage our students to become more consciously active members of society. In this way, English, at Gladesmore, provides a framework through which pupils are encouraged to read from a variety of sources, to explore ideas critically, and to develop their own opinions. By offering students a rich and diverse curriculum which embraces their own backgrounds and cultures, whilst complying with national requirements and exposing students to core knowledge, we encourage them to constantly strengthen their understanding of, and form links between, what they already know and the new material and ideas with which they are presented.
The KS3 curriculum is hence formulated in such a way as to provide a secure foundation knowledge which is carefully and consciously built upon as our students progress through the different phases of their education. We study a range of prose and of poetry, as well as Shakespeare's plays at each stage of Key Stage 3, ensuring that taught texts grow in complexity and challenge; allowing students to learn new material, explore connections within it and acquire the depth of conceptual knowledge on which to build their further proficiency as students of English. To strengthen the ability to express ourselves appropriately and powerfully, both verbally and in written form, we provide ample opportunities to practise the use of Standard English, to build rich vocabulary, and to develop skills of argument and debate.
At KS4 we have made conscious choices about the prescribed texts we study in order to enrich students' knowledge and to provoke their engagement with wider concepts and debates. We study The Merchant of Venice, for example, not only to contextualise our immediate location but to consider Shakespeare's profound observations about the nature of humanity. Similarly, the decision to study and contextualise Priestley's An Inspector Calls is dictated by our desire to sensitise students to the importance of community and equality; issues pertinent to pupils' contexts and the lives they may choose to build for themselves. Our curriculum, thereby, offers not only opportunities for deeper literary experiences but also for conscious engagement with wider societal concepts and debates to provide our students with confidence, sensitivity and independence, necessary for their future success.
Curriculum Summary
Year 7
Descriptive Writing
Beowulf
Viewpoint Writing
Shakespeare: The Taming of the Shrew
Short Stories from across the world
Introduction to Poetry
Year 8
Narrative Writing
The Outsiders or another choice of novel
Viewpoint Writing
Shakespeare: Macbeth
Short Stories from across the world (including a 19th century text)
Poetry
Year 9
Short Stories - Representative/Inclusive (analysis and narrative writing)
Shakespeare: Romeo and Juliet (analysis and viewpoint writing)
The Strange Case of Dr Jekyll and Mr Hyde (abridged version)
Protest Poetry from across the world
Year 10
English Literature Paper 1: Shakespeare — 'The Merchant Of Venice'
English Literature Paper 2: Modern Prose — 'An Inspector Calls'
English Language Paper 1
Year 11
English Literature Paper 1: C19 Prose — 'Strange Case Of Dr Jekyll And Mr Hyde'
English Literature Paper 2: Poetry Anthology — Power And Conflict
English Language Paper 2
Curriculum Enhancement
LAET Chrysalis East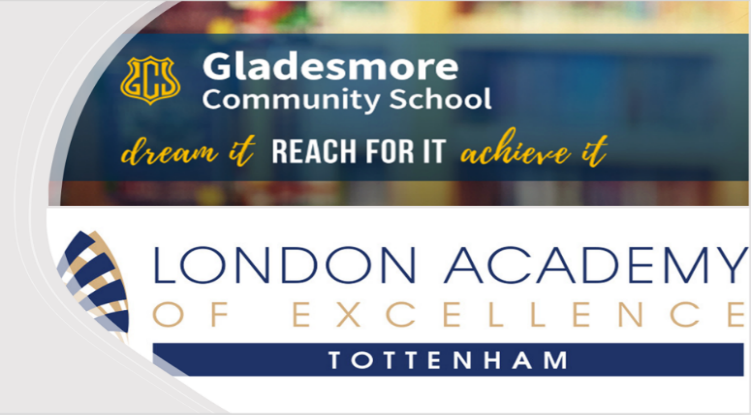 Since 2019, the English Faculty at Gladesmore Community School has collaborated with London Academy of Excellence to deliver after school workshops that challenge our students' thinking, expand their understanding of the literary texts they study and build conceptualised connections between what they already know and the new knowledge they gain.
Through this collaboration, we have delivered regular workshop sessions, allowing students to explore aspects of Literature, Philosophy, Shakespeare and Critical Theory in order to establish a more in-depth appreciation of these disciplines and to gain a wider understanding of some of the cultural, aesthetic and existential ideas which influence our worlds. This has been complemented with a weekly 'Big Ideas' club that invites students to participate in remote lectures which, in their diversity, have brought both Platonic philosophy and Renaissance thinking to the fore.

So successful has our initial cooperation with LAET been that, not only will it be offered to our next cohort of students, but it will be also extended to further projects offered by LAET Chrysalis East; a newly formed initiative that prioritises raising achievement for students of Tottenham.
This new phase aims to nurture students' enjoyment and confidence in navigating the demands of the curriculum, to inspire them to engage with English beyond GSCE and, ultimately, to support students in reaching their full academic potential. Through developing students' creativity, broadening their critical thinking and building their cognitive architecture, we seek to ensure that the life to which students aspire after Gladesmore is one that can be met with confidence, fortitude and success.