Computing - Girls Leadership Program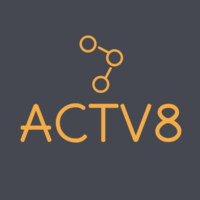 An important aspect of Gladesmore's education is to prepare the students for their future careers. The school partners with different companies who mentor and coach our Year 9 and 10 students. The leadership programme, designed by Actv8 Network, focuses on increasing the number of female students in STEM subjects while developing other sought after skills in the future workplace.
The programme is divided into two parallel streams; first, where the students work together on a project, and second, individual coaching sessions between mentors from companies that Actv8 partners with.
Under the first stream where the students work as a group on a project, the programme participants of adult mentors and students are divided equally into teams. The teams are given a problem to solve and different questions to answer throughout the three-month programme. Some of the problems or challenges pose include: how to increase physical activity in our daily lives, and how to reduce the stigma of mental health in teens.
To help the students design solutions, Actv8 provides training including design thinking, and prototyping and skills such as critical thinking and giving and receiving feedback. Students present their solutions which enhances their communication, storytelling and creativity skills. The interactive nature of the programme engages the students and creates an interest for learning about the subject. The group dynamics also increases leadership, collaboration and empathy within individual students.
Through the second stream of individual coaching sessions with adult mentors, the students learn to reflect and develop skills such as managing time or anxiety—areas which are more particular to each student. Actv8 pairs up each student with a mentor that guide the student in their reflection. The mentor also shares their experience in navigating their professional journey which encourages the students and helps them overcome their personal challenges. During the individual sessions, students may discover new career paths that they were not aware of before.
In addition, there are company visits and talks by experts to introduce the students to different professional opportunities. Students have met doctors, lawyers, Chief Financial Officers, computer scientists and programmers, architects and data scientists. These visits also help the students imagine what it is like to work in an office or what it would be like to work in a particular job.
At the end of the three-month programme, we observed increased self-confidence and self-awareness, renewed interest in their schoolwork, and maturity in thinking. The students make new friends and build a community around the other programme participants which ultimately supports them in excelling in their student career.